I've been around awhile, sometimes it seems like I've lived several lifetimes already, but I'm sure a lot of people feel that way.
Life is an incredible journey for those that choose to live.
I served one enlistment in the U.S. Marine Corps after high school with the 10th Marines. 3x Expert Rifleman; Honor Graduate PLT 2200 Parris Island, S.C.; Honor Graduate U.S. Army Fire Direction Control Course 3-85.
I live with my wife, three kids, a dog, some cats, a parrot, and a chinchilla.
Life is busy, and it's awesome.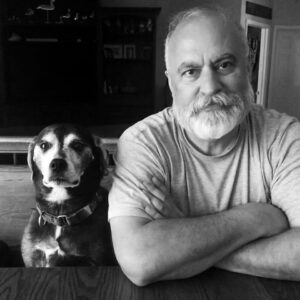 The day my third kid was born, my risk profile changed. I started doing things like working every damn day, got a job with benefits, started drinking (less), and sold my motorcycle.
I drive a Ford F350 Super Duty because I frequently pull a giant camper to different locations around the United States.
I carry a pocket knife and like to fish.
I like strength training and HIIT.
I don't judge books by their cover, but if they suck I will throw them away.
I can read through bullshit incredibly fast. It is a blessing, and a curse.
I have worked with some of the largest brands in the world (Campbell Soup Company, Netscape/AOL/TimeWarner, FCC, Battelle) but prefer working with smaller companies.
As far as formal education, I've earned a B.S. and M.S. in Information Systems from Nova Southeastern University, and a Master of Engineering from the Stevens Institute of Technology
I've done some really stupid shit, and some things that I'm incredibly proud of.
I've lived.
And along the way, I've learned a few things.
Like how to slow down, how to be competitive without being a dick about it, how to share what I know, how to help others move toward their goals, and how to just enjoy where I'm at in life.
Life is way too short.
I care about helping people make money.
I think everyone on earth should be free to earn money the way they like. Free from corporate bullshit and oppressive management styles.
One of my income streams is from blogging on Medium.
I manage a free Facebook group for people that write on Medium (my favorite blogging platform), it is a private group, but membership is free. If you'd like to join, request an invite: Medium Momentum.
I write web content that pulls visitors and drives conversions.
I am an expert in online marketing.
This can mean a lot of things, but specifically: I am an expert in keyword research, niche marketing, tracking trends to identify emerging opportunities, appealing to base desires, triggering emotions, and zapping the walking dead back to life by making them feel like someone gives a fuck about them.