I am going to show you how to create a blog by example. Not a lot of screenshots, but a whole lot of text.
This is going to be a running experiment. A "How To Create A Blog Log" if you will.
On May 28th, I registered a new domain in a niche market that I have been fiddling around with, and it is super niched down. Not sure how much traffic I'll be getting, or what sort of money I'll make off this blog, but I am going to capture and record all the activity here for you to see.
The Basics To Creating A Blog
There are a ton of websites that go through the mechanics of setting up a blog, and I don't want to repeat it all here. The gist of it is as follows:
Buy Web Hosting
Buy a domain name (some hosting plans include a domain name as part of the package).
Install WordPress
Install WordPress plugins
Configure WordPress
Create a MailChimp account
Create content for you blog
Search Engine Optimization
Search Engine Optimization
I do a ton of keyword discovery and keyword research as professional affiliate marketer. I also offer up advice on how bloggers can improve their rankings in the Google SERPs through various Search Engine Optimization (SEO) techniques.
Things change in the SEO world fast, I know that, and don't pretend to have all the answers. What I do know is that "creating good content" is a tried and true method for ranking a website.
Log Entries
I'm most interested in capturing what I did in creating a new blog from scratch and the lessons learned along the way. I've done this so many times that I just burn through it. It recently occurred to me that if I want to teach a friend or family member how to create blogs, that I better document my process.
Blog Creation Log Entries
May 29, 2020
After a morning of research, I bought a hosting plan and a domain. Did all configuration, created content pages and an initial blog post. Verified domain ownership and submitted sitemap to Google Search Console. Created new property in Google Analytics and put tracking code in the header. Created Privacy policy, terms & conditions, and disclaimer pages. Included affiliate disclosure after content on pages and posts. Created email account for domain. Created MailChimp account with the domain email, then created email list, and integrated site with Mailchimp so visitors can opt in to email list. Created Amazon Associates ad for site and set it to insert in the middle of page content. Not going overboard with ads until I start getting a little traffic flow.
June 1, 2020
Create Google Alerts for topics of interest in this niche. Did some competitor research, found three interesting sites. Installed RSS reader Chrome plugin and configured to pull feeds from competitor sites. The Google alerts and RSS feeds will give me content ideas for blog posts. Curating content from around the web specific to a niche is a thing. Created three blog posts.
June 2, 2020
Alerts and RSS feed, created one blog post. Using Google Search Console, I checked that Google has crawled the site and indexed a few pages. Should start seeing indexing pick up as the month progresses.
Blog Earnings Report
This is where the rubber meets the road.
May 2020 – Zip
June 2020 – See Below.
OK, hold on…June 2020
I was distracted, and jumping from thing to thing, which is often a problem if you have many irons in the fire. Creating multiple sites before I have one up and running results in a me having a bunch of sites with half asses traffic numbers and no revenue.
So I've decided to focus on this blog for awhile, continue to work on content and traffic strategies, one of which is Writing On Medium.
I earned more on Medium in June 2020 than I did on other sites combined, so I'm going to take some time in July and write a few essays.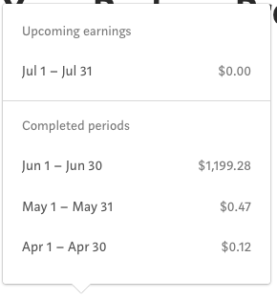 Check back in July 2020.
Disclosure: This page may contain affiliate links, which means that I get a few pennies if you purchase through the link. I will never recommend products that I don't trust.